Enrich your life

The new H1
2.4 MPi gasoline engine Displacement (cc) : 2,359
2.5 TCi diesel engine Displacement (cc) : 2,476
2.5 CRDi diesel engine with WGT Displacement (cc) : 2,497
The new H-1, Enrich your life
The new H-1 adds a rich, distinctive dimension to your life, with a luxurious and sophisticated design that combines elegance with adventure.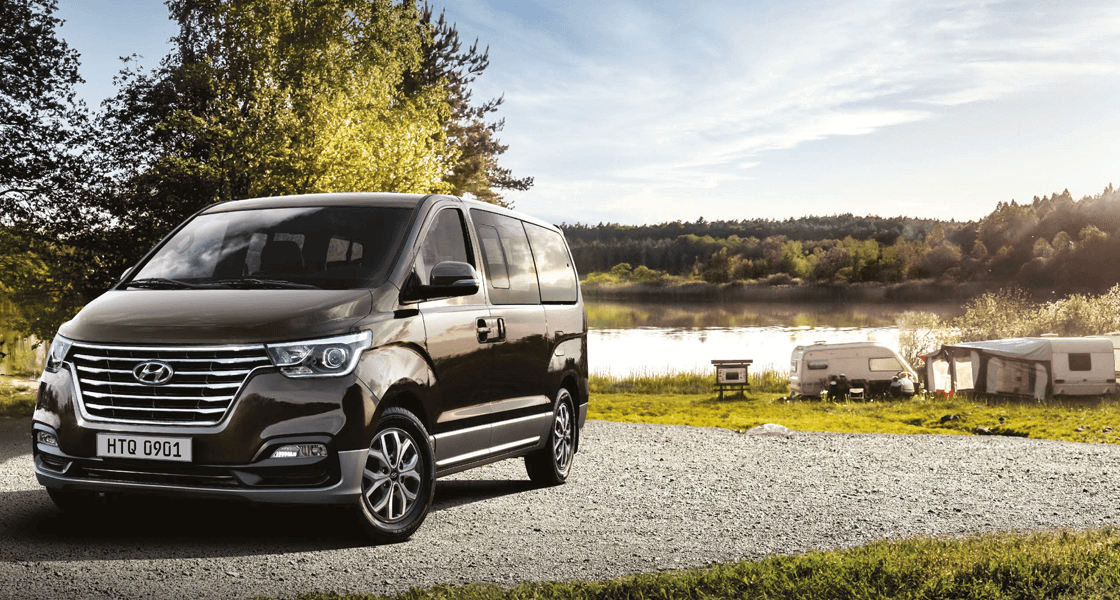 Looking good, living even better
H-1 vans offer both style and huge versatility. A 5-seater window van provides plenty of space
for luggage, while a 3-seater panel van allows room for up to 800kg of cargo.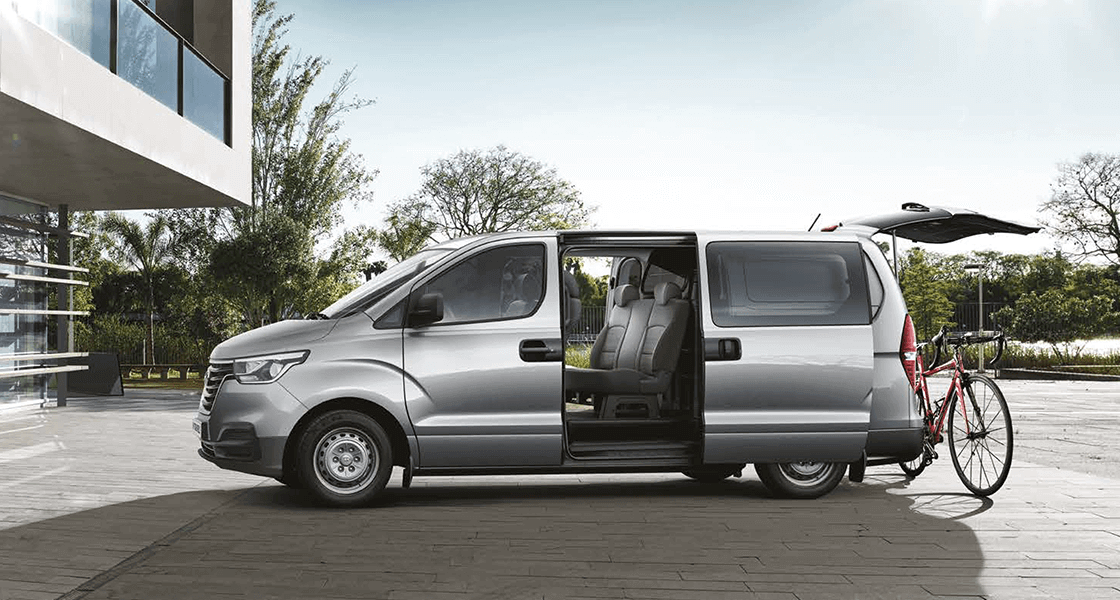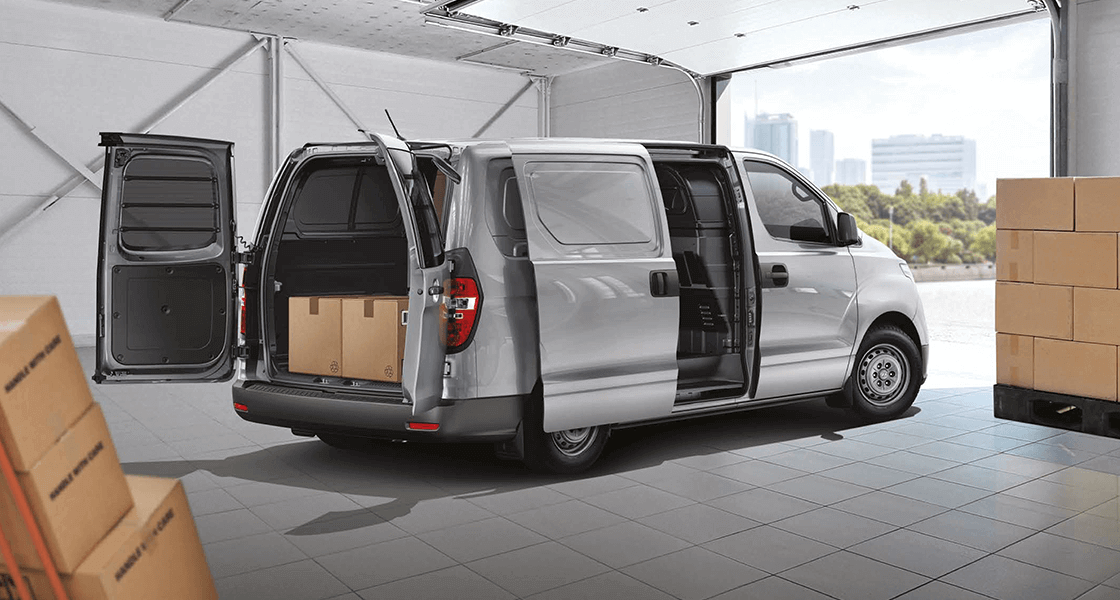 New experience, new opportunities
The 12/9-seater H-1 opens up a new world for you to experience. Projection headlamps
deliver a sleek, purposeful impression, while a stylish radiator grille enhances the overall presence.
Newly-designed wheels and side garnish complete the modern, progressive style.


Projection Headlamp & Chrome-coated radiator grille

Side garnish Outside mirrors with side repeaters, 17˝ Alloy wheels & LED rear combination lamps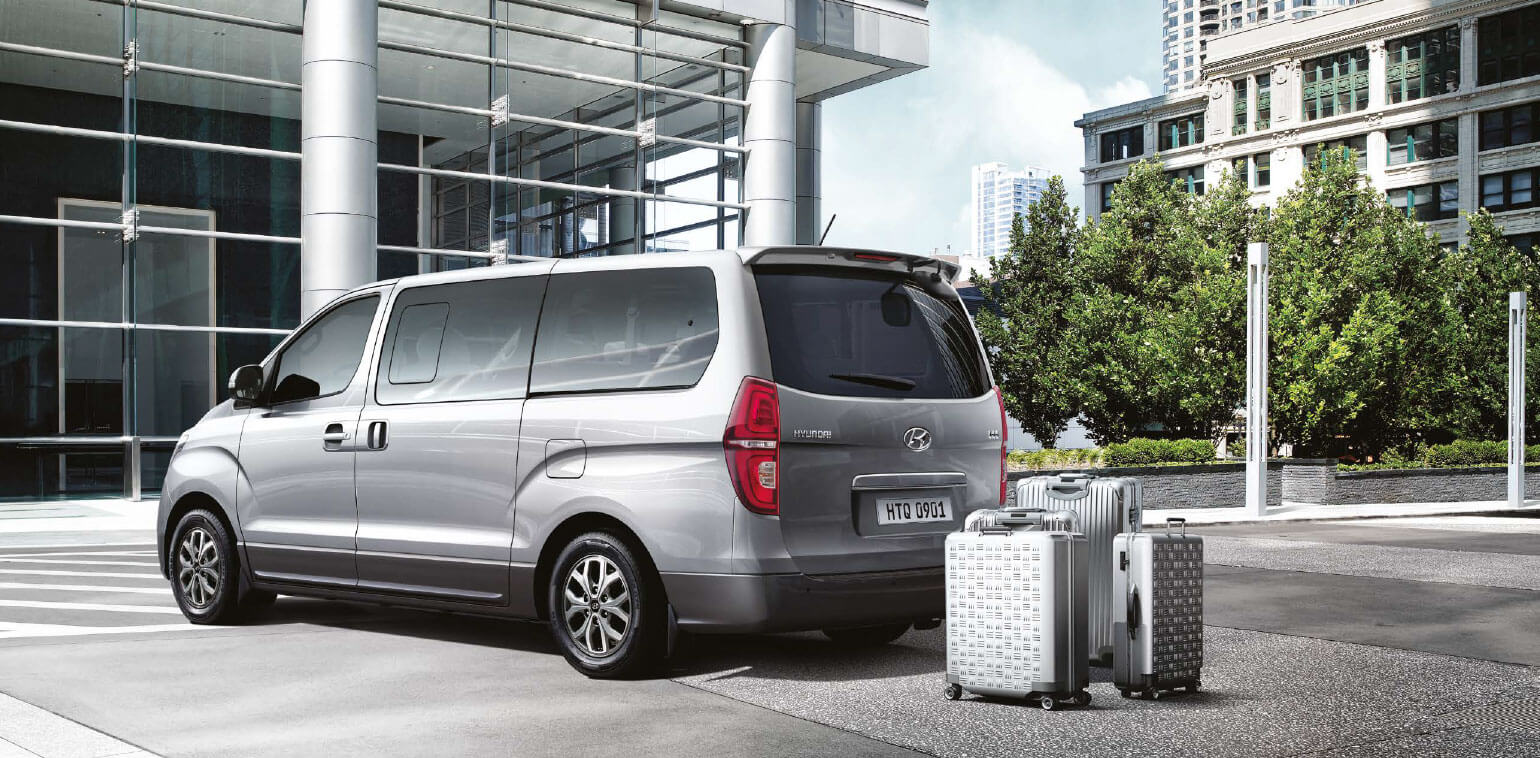 Whoever you are, wherever you go
The H-1 offers numerous advantages as an 12/9 seat passenger wagon. Suiting a wide range of applications, from business to leisure, many seat variations are available. Passenger comfort is assured by a range of convenience functions and devices.
Change your worldview
The H-1 interior, with a horizontal layout providing a wide, open feel, achieves the highest levels of design. In addition to the audio system , a stylish, sporty steering wheel also enhances the drive.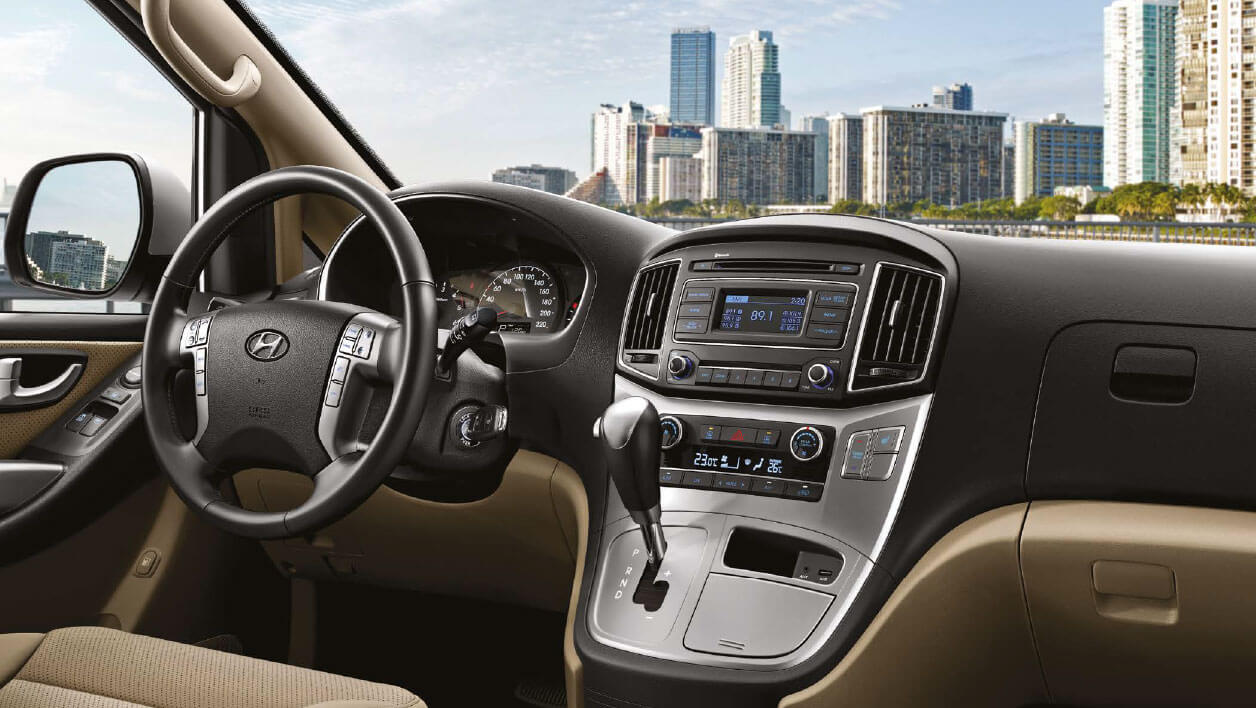 Feel it under the pedal
The powerful driving performance of the H-1 is demonstrated by high power diesel engines that meet strict Euro 6 exhaust gas regulations. While safety features include a comprehensive airbag system and Anti-lock Brake System(ABS) provides more stable driving in any environment.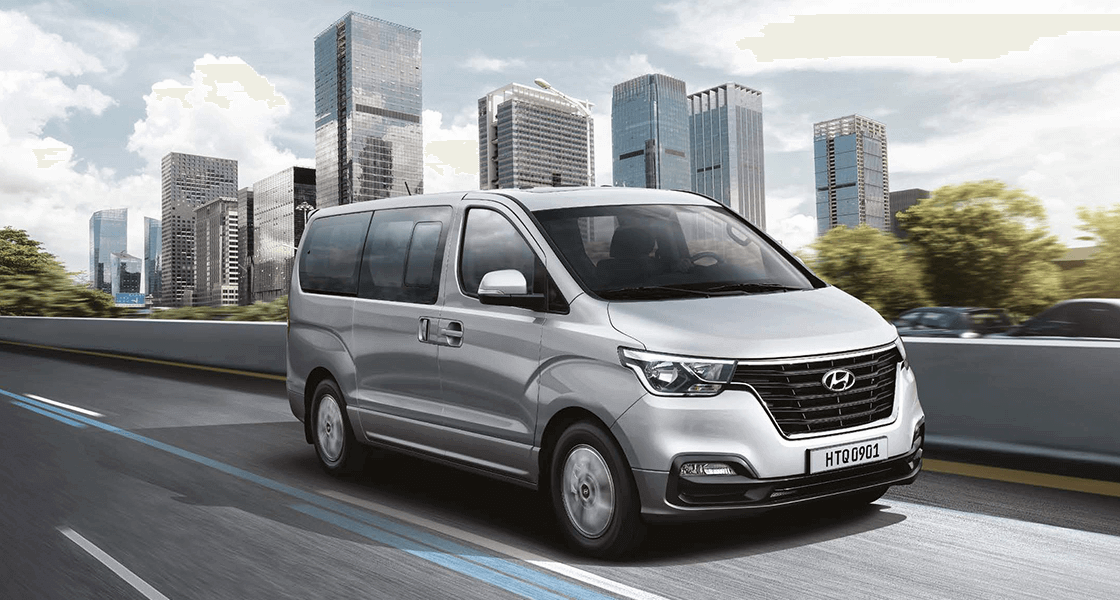 Move it your way
Anything is possible with an H-1 van. Whether it's carrying lots of cargo or lots of passengers, or a combination of both, the vehicle is equipped to handle every trip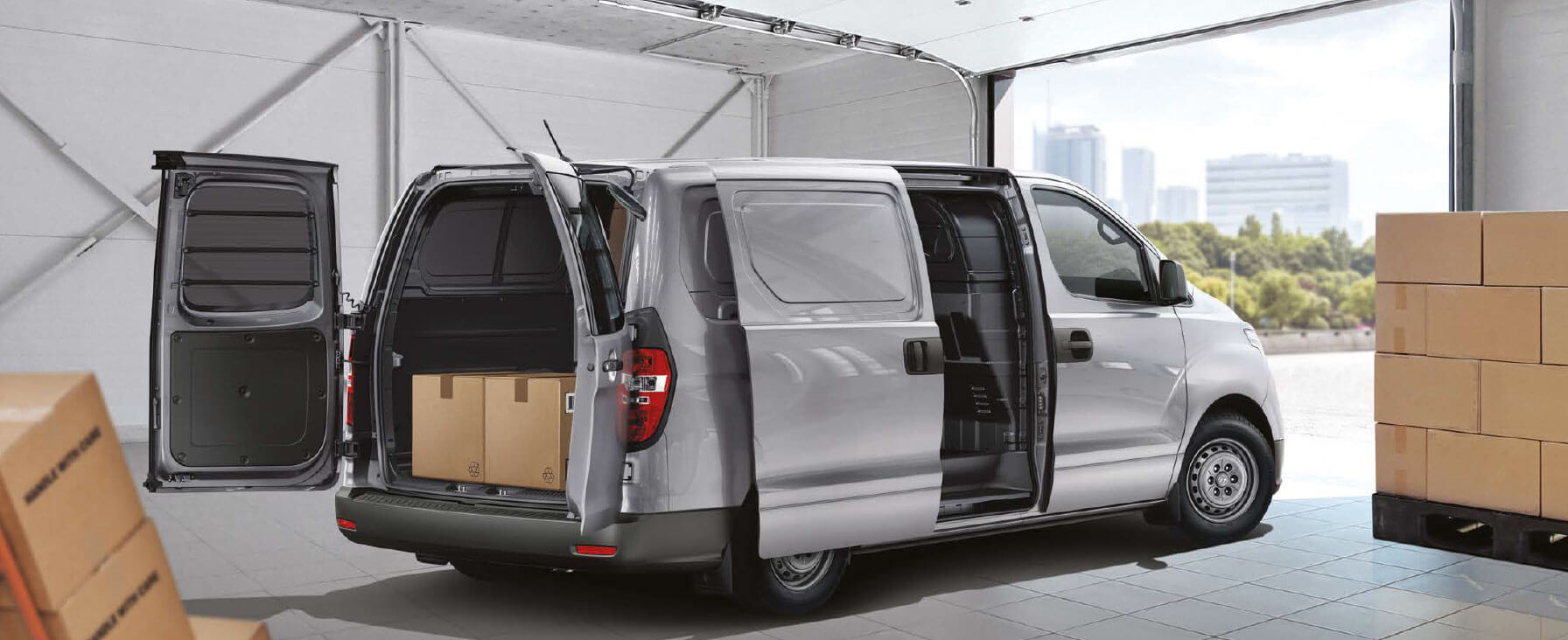 Double swing rear door & Passenger/cargo space partition panel

5/6-seater window van cargo room, 2/3-seater panel van cargo room & Windows protection bar

2/3-seater passenger space and 5/6-seater cargo van variation
H1
* Unit: mm * Suspension Front / Rear : McPherson strut type / Rigid axle 5-link (Wagon), Leaf spring (Cargo van)

Type
2.4 MPi gasoline engine
2.5 TCi diesel engine

2.5 CRDi diesel engine with WGT

2.5 CRDi diesel engine with VGT

Displacement (cc)
2,359
2,476
2,497
2,497
Bore x Stroke (mm)
88.0 X 97.0
91.1 X 95.0
91.0 X 96.0
91.0 X 96.0
Compression ratio
10.5
21.0
15.8
15.8
Max. Power (ps/rpm)
175 / 6,000
100 / 3,800
136 / 3,600(high), 116 / 3,600(low)
170 / 3,600
Max. Torque (kg·m/rpm)
23.2 / 4,200
23 / 2,000
35 / 1,500~2,500(high), 35 / 1,500~2,250(low)
45 / 2,000~2,250
Engine Oil Capacity including oil filter (liter)
5.1
5.4
7.4
7.4
Suspension Front
McPherson strut type
←
←
←
Suspension Rear
Rigid axle 5-link (Wagon), Leaf spring (Cargo Van)
←
←
←

Steering wheel

General
Hydraulic power assisted
←
←
←
Overall steering gear ratio
15.61
←
←
←
Steering wheel turn (Lock to lock)
3.57
←
←
←
Minimum turning radius (m)
5.61
←
←
←

Brakes

General
Hydraulic
←
←
←
Front brake type
Disc
←
←
←
Rear brake type
Disc / Drum
←
←
←
Master cylinder
Tandem
←
←
←
Booster size
9″ + 10″
←
←
←
Tire
17″ (215 / 65R17XL), 16″ (215 / 70R16C
←
←
←
The above values are results from internal testing and are subject to change after validation.
Some of the equipment illustrated or described in this catalog may not be supplied as standard equipment and may be available at extra cost.
Hyundai Motor Company reserves the right to change specifications and equipment without prior notice.
The color plates shown may vary slightly from the actual colors due to the limitations of the printing process.
Please consult your dealer for full information and availability on colors and trims.